One of the top complaints that we get from manufacturers reaching to us for guidance on their coding and marking operations, is that the maintenance involved in the day-to-day running of their coding system is too costly. They usually all have something in common – that they're printing on their products or packaging using continuous inkjet (CIJ) technology.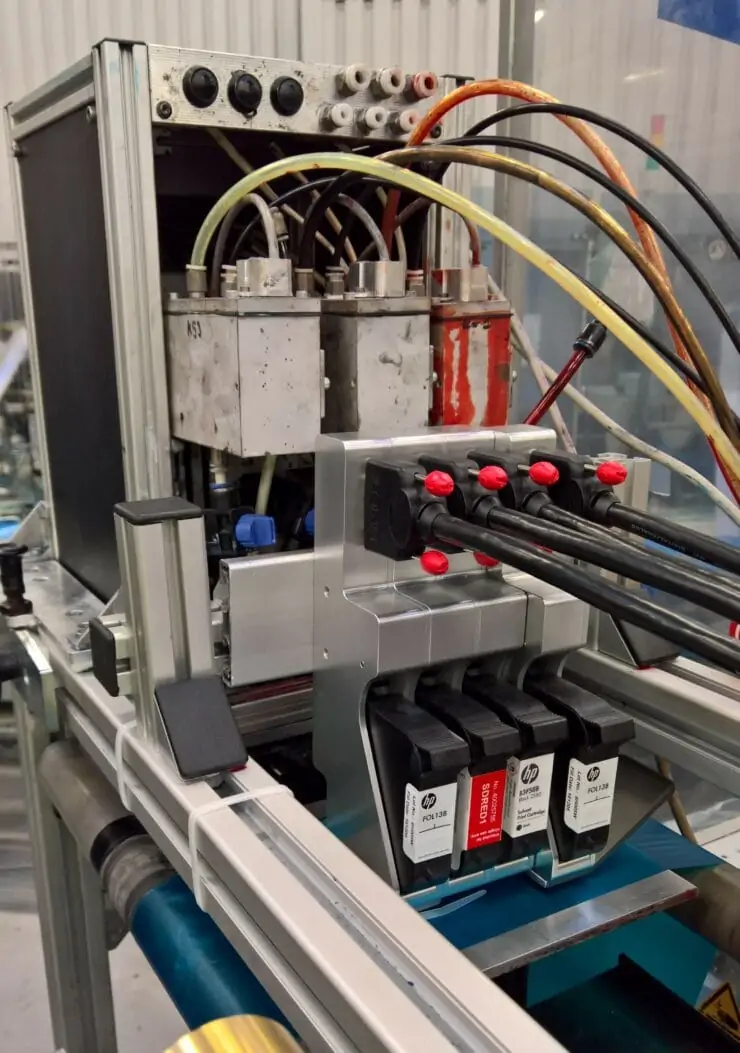 CIJ legacy printers are complex in nature. They have an extensive amount of wearable parts; ink pumps, filters, pressure regulators and sensitive printheads and, as such, require a great deal of maintenance in order to keep them operating efficiently. This maintenance is time consuming, labour hungry and costly, but the alternative is a production line that goes down – a worst case scenario for any manufacturer.
Owners of old CIJ systems are prisoners to service contracts – a (usually) expensive agreement between the supplier and customer which pays for a technician to perform regular cleaning and repairs. If the CIJ unit is not maintained properly during daily use, it is prone to failure, seriously impacting the efficiency of the machine and shortening the service life.
When a continuous inkjet printer is idle, the ink that remains inside the ink system and printhead is exposed to air. This causes it to dry, subsequently clogging the printheads nozzles, preventing operation.  That's why you will often see a facility's maintenance shop filled with units that need work or with spares waiting to be rotated into the production line. CIJ printheads are typically cleaned daily at the start of every shift.
Industry experts estimate 15% to 20% of a CIJ system's costs are related to ongoing spare parts, maintenance and consumables (ink + make-up), not to mention greater labour requirements.
TIJ – A maintenance-free alternative
Thermal inkjet (TIJ) printers are considerably easier to maintain than their CIJ counterparts and are just as, if not more effective for most coding applications.
The printers use HP ink technology to deliver high-quality, durable codes on a range of packaging types. The compact coders certainly pack a punch, and can slot in seamlessly to production lines across a range of industry sectors.
With each new ink cartridge comes a new printhead, a monumental difference compared to CIJ. The ink cartridges can be swapped in seconds, minimalizing downtime and providing long, predictable maintenance cycles.
The only true maintenance associated with TIJ is the cleaning of the printhead. This is easily carried out with an absorbent lint-free cloth. All the user needs to do is wipe the nozzles facing downwards onto the cloth, slowly and lightly 2-3 times. This process is to be repeated until there are no visible signs of ink accumulation on the nozzle.
Our TIJ printers use iDesign message-making software to communicate with the printhead. WYSIWYG barcode software makes it easy to create messages, formats, fonts, multi-lingual text, graphics and barcodes for coding of products and packaging. This easy-to-use software can be learned in a matter of minutes by any operator.
If you'd like to consider switching out your outdated CIJ system for a maintenance-free TIJ alternative, contact our friendly team today.