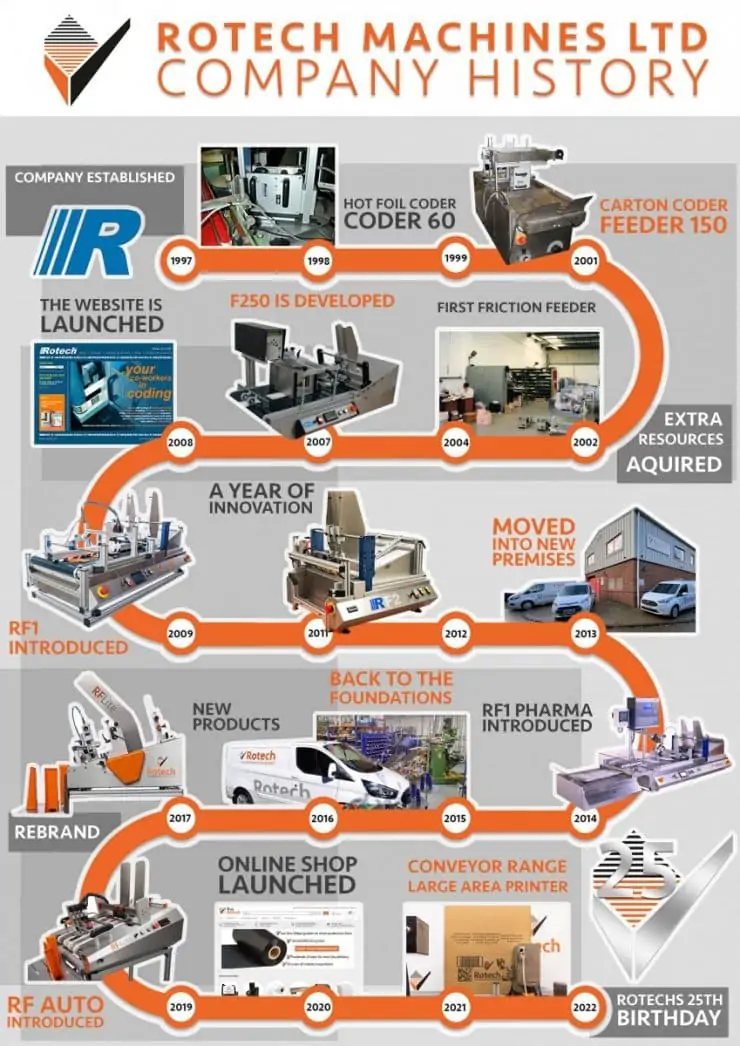 This year marks Rotech's 25th Anniversary, our silver jubilee – a quarter of a century in business. Now that is something to celebrate!
Chris Baker, Rotech's Managing Director, founded the company in 1997 and quickly teamed up with Richard Pether (Director), creating an unstoppable pair. Since then, the company has gone from strength to strength, becoming one of the most respected coding and marking specialists in the UK.
Along the way, there have been any innovations that have helped to shape and grow the business, such as the introduction of the RF Range of automatic feeding systems and, much later, the addition of TIJ printing technology – a clean, maintenance-free coding method that challenges the way variable information has been traditionally applied to products and packaging.
The factory footprint, office space and team members have all significantly increased, accommodating the growing demand for our products and services. The "outer case" of Rotech has dramatically changed too – it only seems like yesterday when we celebrated our 20th anniversary, taking on a complete rebrand to mark the occasion.
Knowledge, Innovation, and Integrity
Whilst Rotech received a massive make-over visually, the core values of the business have remained the same. Despite several obstacles (especially in the last two years with Covid 19) the business has continued to grow and achieve goals using knowledge, innovation, and integrity. These brand pillars have projected the company forward and kept us grounded.
Over the past 25 years, Rotech has built up a wealth of knowledge and understanding of both coding and marking technologies and the industries in which they are used, and will continue to do so, forever armed with the pursuit of knowledge. Through innovation, we have been able to meet existing and new market requirements, all whilst delivering expert advice with integrity and honesty. With a combined total of 193 years of industry experience, Rotech are a team you can trust.
To our Customers, Team Members and Suppliers.
Despite all this, Rotech would be nowhere without our brilliant customers. From the customers we have worked with for many years, who continue to trust and invest in our solutions over any other, to those who have newly experienced the benefits and potential of our systems, to the future customers that engage with our content and show interest in the brand. You are all integral to the success of the business; we cannot thank you enough for that.
To employees of Rotech, past and present, your contributions to the business have been second to none. The hard work and passion witnessed both collectively and individually has helped push Rotech one step closer to where we are today. We cannot thank you enough for your ongoing commitment to Rotech.
Lastly, we would like to thank our suppliers, who it is a pleasure to do business with. Your collaboration, cooperation and communication play a key part in the smooth operational running of our business and therefore our ability to constantly succeed no matter the circumstances.
Exciting Things Coming
We have proudly reached this important milestone: commemorating the exciting event with a brand-new anniversary logo. The silver accents not only give it that extra 25th sparkle but also reflect the stainless-steel finish in Rotech's machinery. Expect to find glimpses of this reflective design sprinkled across Rotech's existing material, along with exciting new projects.
In celebration of Rotech's 25th Birthday month we have designed a company timeline- that reminisces over our most memorable moments and notorious innovations.
We hope that we will continue to offer crucial support and help to find solutions to all manners of coding and marking requirements. We are delighted to be celebrating with everyone and look forward to the year ahead!