A thermal inkjet coder from Rotech has proved to be a flexible, reliable and economical alternative to continuous inkjet coding at Paragon PE, a fast-growing Cheshire manufacturer of sanitisation products. The versatile coder is being shared between two filling lines, applying codes directly to plastic bottles as well as via labels.
"We'd never considered thermal inkjet before but you could say that we are converts. The coder supplied by Rotech has been a revelation – it's an easy-to use, economical system with an impressive cost-versatility ratio," says Paul Ward, managing director of Paragon PE.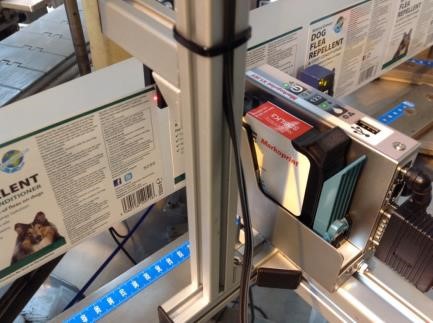 At its factory in Widnes, Cheshire, Paragon PE manufactures sanitisation products for the healthcare, personal care, sports apparel, household, veterinary and pet grooming sectors. These range from surface and hand sanitisers to clothing deodorisers, laundry detergents, odour eliminators and flea repellent sprays, sold under brands such as Paragon and Medipet as well as customers' own labels. One of the company's most successful products is Halo – a breakthrough low temperature detergent for which Paul was offered Dragon's Den investment in 2010.
The last three years have seen exponential growth for the business; in this time the team of four has swelled to a workforce of 20, and by the end of 2016, there will be 30 people working at Paragon.
Paul Ward attributes this growth to the rise of the discount retailers – who represent a large chunk of Paragon's customer base, but also to his company's efforts to keep abreast of legislation.
"Demand for many of our products is driven by regulatory requirements. Customers come to us because they can be assured that our products are compliant with biocidal legislation," explains Paul.
All of the company's production is carried out on three filling lines, two of which are semi-automated, running at speeds of 22 bottles per minute and one which is fully automated, operating at speeds of up to 40 bottles per minute. Products are filled into plastic HDPE and PET bottles in a range of sizes, from 150ml right up to 5l, before being labelled and coded with Julian codes and expiry dates.
The company was reliant on a hot foil coder, previously supplied by Rotech, and a continuous inkjet (CIJ) system, from another supplier, to code the bottles. However, the CIJ printer was  causing frequent downtime and the hot foil coder was limited in terms of code placement.
"The CIJ coder was giving all sorts of problems; the nozzles kept blocking and we were spending a lot of money on call outs. The hot foil coder, whilst reliable, wasn't always able to hit the specific area of the bottle where we wanted the code to be. This meant that sometimes codes were having to be applied to the front of wraparound labels – not ideal from an aesthetic point of view," says Paul.
With business booming, Paragon needed to upgrade its coding capabilities, and, given its negative experience of CIJ, decided to invest in a second hot foil coder from off- and on-line coding and feeding specialist Rotech.
However, when Rotech ascertained that what Paragon wanted was a versatile coder it could move between lines, it recommended a thermal inkjet (TIJ) coder instead.
"With TIJ, clean cartridge technology combines both head and ink, so you don't have any downtime as a result of blocked nozzles, spillages and maintenance. TIJ is high speed, high quality and maintenance free," says Richard Pether, director at Rotech.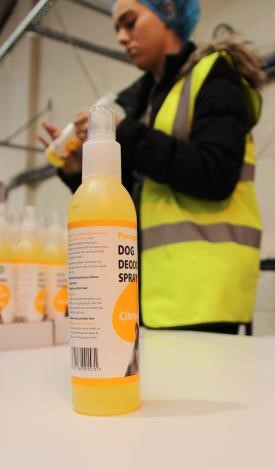 For Paragon, Rotech specified the Bluhm Markoprint X1JET, a cost-effective, compact print head for easy integration into existing production lines.
Besides the coder's attractive cost-to-functionality ratio, the reason Rotech selected the Markoprint X1JET was that it was small enough to bolt on top of an in-line labelling machine, which would enable Paragon to code polypropylene or paper wraparound labels before they were applied to the bottles.
"With a lot of coders, the head won't fit in the gap above the beak where the label is dispensed. This coder is very compact and fits above most of our labelling machines," says Paul.
On the one line where there isn't enough space to bolt the coder onto the labeller, the coder can be positioned next to the line to code directly onto bottles after they have been labelled. This application can be problematic, as the curved surface of the bottle means there is only a very short window when the target area is close enough to the coder to apply the code.
To ensure accurate code placement, Rotech custom-built a stand on which to mount the coder. This also allows Paragon to move the unit between different lines.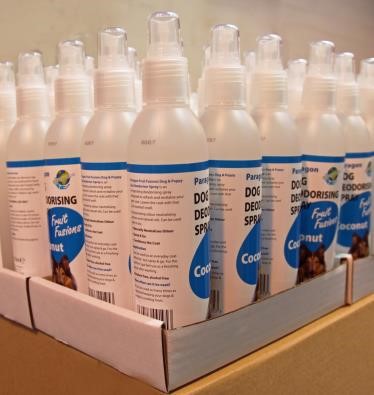 "We didn't know that coding directly onto the bottles could even be done; the versatility of this machine has surpassed our expectations," says Paul.
Since installing the TIJ coder in November 2015, Paragon's productivity has increased and, without the unreliable CIJ coder to maintain and repair, downtime has fallen.
Paul has been particularly impressed with the economy of the cartridge-based system, saying: "Since purchasing the coder, we've filled nearly 400,000 bottles, and are still on our first ink cartridge."
With the orders still flooding in, Paragon is currently installing two new 80 bottle per minute filling lines, and TIJ convert Paul is returning to Rotech to purchase two new coders for these lines.