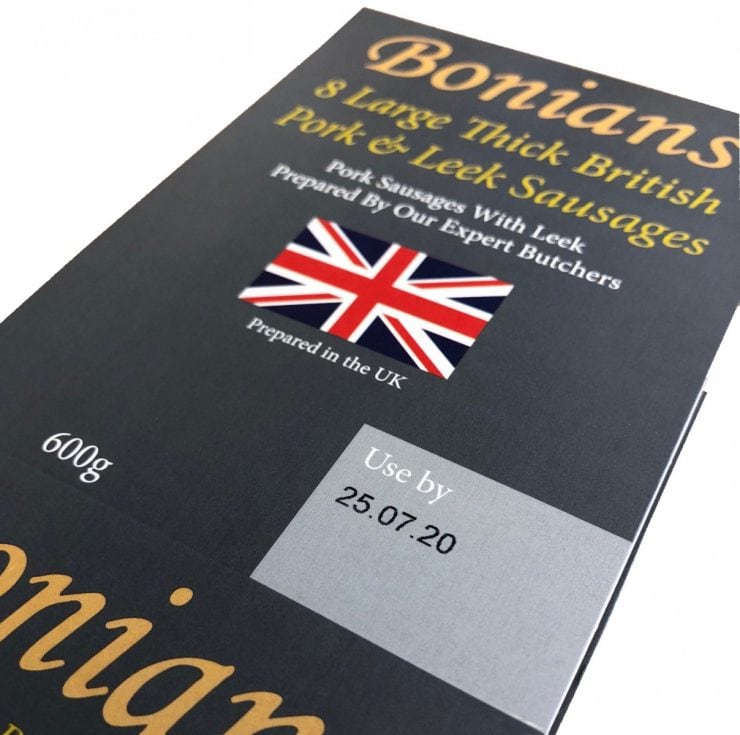 Established in 1985, Bonians is a British manufacturer of quality sausages. Based in Dagenham, Essex, the company make sausages to customer specification or to their own recipes. They supply trade customers across the hospitality and food industries, including hotels, cruise lines and high-end dining, both here in the UK and across Europe.
Prior to approaching Rotech Machines, Bonians had always used a ticket gun to apply their date codes to their outer sleeves. However, often manually applying up to 800 codes a time, the process was becoming increasingly laborious and slow.
In order to improve coding speed and efficiency, Bonians requested a demonstration of the RF Lite, a small, compact sleeve and carton feeder that is designed for businesses looking to code their packaging for the first time. They were immediately impressed and an order was placed.
Comprising an integrated Integra One thermal inkjet printer, the RF Lite allows Bonians to simply stack their sleeves into the hopper where they are subsequently fed and date coded one by one. Using the printer's user-friendly iDesign software, they just set the required date code and start the system; each batch of sleeves can now be printed in just minutes.
Easy, low-cost date coding
The Integra One thermal inkjet printer can apply dates and codes to a wide range of surfaces in both warm and chilled environments, producing quality marks every time. The iDesign format creation software allows users to create and edit batch codes, as well as controlling output speeds, viewing a job status, and checking print quality and ink levels. And to replace the ink cartridge they simply click out the used one and click a new one into its place.
The cost-savings from using thermal inkjet printing can be significant; the printer is maintenance-free so there are no additional annual costs, and each cartridge can produce up to 400,000 prints, therefore consumable costs are low.  For those switching from hand-labelling like Bonians, there is no longer need to purchase labels and labour is freed up, further reducing operational costs.
New sleeve coder, new packaging sleeve
Since installing the RF Lite, Bonians decided to update their sleeves to a pre-folded and glued design, again saving time and labour.
Anne Bliss, bookkeeper at Bonians said
We are so pleased with our new sleeve feeder as it has saved us so much time, allowing us to carry out other tasks. We no longer have to hand-stamp each pack, which was previously slow and often painful when repeatedly using the hand gun. The service we received has been excellent too. The engineer was very helpful and showed us how to set up the printer and we've even added our logo.