This year, Rotech Machines, the coding integration and feeding systems specialist, celebrates its 20th anniversary. To mark this milestone, company director Richard Pether looks back through the decades on coding technologies and what is instore for the future.
The birth of the continuous inkjet printer stretches back to the late 1970s and early 1980s, when companies like Domino, Videojet and Linx embarked on the industrial implementation of continuous inkjet (CIJ) technology.
Their development efforts were given a significant boost in 1980, when the EEC directive to label perishable goods with a sell-by date came into force, rapidly expanding the market for inkjet printers.
In their R&D, the engineers of these early printers were striving to develop systems with totally sealed printheads, single button start and stop and the ability to print up to several lines of text – principles that still hold true today.
Whilst CIJ was still in its infancy in the 1980s, analogue hot foil coding was firmly established as the technology of choice for applying expiry dates to packs. Models from the likes of Allen Coding gave FMCG manufacturers the ability to print simple logos and ingredients lists as well as date and batch codes.
Hot foil coding continued to remain popular into the 1990s, until it started to be overtaken by digital coding technologies. Interpack 1992 saw the launch of the first TTO (thermal transfer overprinting) system from SmartDate, bringing digital printing technology to flexible film packaging applications.
It became increasingly apparent that as coding requirements changed due to supply chain, customer or regulatory demands, analogue technologies – constrained by the number of characters held in the type holder or the amount of text that could be added to the circumference of the die wheel – had limited flexibility.
The early 1990s also marked the advent of the laser coder for packaging applications. The first systems were based on CO2 lasers, followed by fibre lasers, which excel at coding high-density packaging materials such as metal cans.
A further coding technology – thermal inkjet (TIJ) – entered the fray in the noughties, and has since emerged as a serious rival to CIJ. TIJ has been used on office desktop printers for years, but the equipment has only recently become robust enough for industrial environments. The main benefits of TIJ stem from the use of ink cartridges – which prevent ink spillages during operation and changeovers but above all else require no maintenance.
Early TIJ systems were essentially industrial versions of Hewlett Packard (HP) office printers that used standard water-based ink cartridges. With a price tag in the region of £6000, they were expensive, and they also had considerable limitations, in that they could not accommodate the solvent inks needed to print on non-porous surfaces.
Even with these shortcomings, for some manufacturers, the cleanliness and high coding quality advantages of TIJ were important enough to justify investment in the technology. Indeed, some pharmaceutical companies changed their packaging to substrates that could support water-based inks just so they could run TIJ coders, and corrugate cases and porous applications where TIJ inks can absorb into the substrate soon became another 'sweet spot'.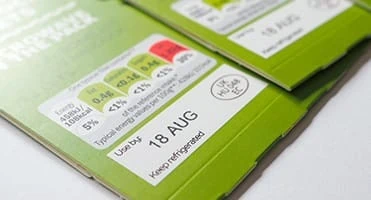 Dynamic developments
Of course, none of these coding technologies have remained static since their introduction and advancements have been made across the board – on CIJ, TIJ, TTO and laser.
CIJ has done much to shake off its image as messy, temperamental and smelly. Now, decantable consumables have become cartridge based, printheads are self-cleaning, and maintenance intervals are longer than ever.
The barriers that prevented wider adoption of TIJ – chiefly ink performance and equipment cost – have been addressed. R&D has yielded ethanol based inks, enabling printing on non-porous, coated surfaces. Ink performance has also been improved, with development work yielding inks with high optical darkness and extended de-cap times.
In laser, advances are opening up new applications which would previously have been unachievable. For example, fibre lasers can mark metals and plastics at very high speeds, whilst laser sensitive coatings (thermochromic ink) have revolutionised the way large companies with multiple SKUs achieve high quality code on outer case packaging, labels and primary packaging. A flush of entry level laser coders have also made laser more accessible to smaller producers.
In TTO, ribbon-save features that minimise the gap between prints and reduce ribbon use and increased heat control to the thermal bars for more consistent print quality have been two areas for development.
The latest generation of coders, whether CIJ, TIJ, TTO or laser, feature intuitive user interfaces that reduce the potential for operator errors. They are designed to be part of a factory network, so, for example, job changes can be executed from a remote location, code data can be updated via a centralised database and printer performance can be monitored. Today's coders are also capable of generating variable and serialised data as well as 2D codes – a key requirement for the pharmaceutical and healthcare industries.
The next 20 years
Looking ahead, a number of macro-trends will drive further developments in coding:
Manufacturers: pushing for productivity
Maximising productivity will continue to be a primary target for FMCG manufacturers, with food manufacturers in particular looking to reduce costs in any area they can to offset increases in raw material costs.
From a coding perspective, this will mean more focus on total cost of ownership (TCO) and overall equipment effectiveness (OEE) models. Tomorrow's technology will have to be accountable and able to demonstrate productivity gains, whether through the best availability rates or optimised maintenance schemes to avoid any impact from printer downtime on the production line.
Industry 4.0 will play a major role here, and coding equipment software will evolve to enable manufacturers to harness the opportunities offered by cyber-physical connectivity. For example, software might cross-check the working condition and performance of the coder with reference to certain key performance indicators (KPIs) and recommend preventative maintenance.
Brand owners: seeking protection
Intensifying competition in retail markets will see brand owners fiercely protecting their brands. The threat posed by counterfeit copies will drive the wider adoption of serialised and unique codes, whilst pressure to uphold brand image will benefit TIJ and laser. These technologies can offer higher resolution text and images that can be helpful in enhancing the look of a product or packaging.
Greater importance will be placed on product recall prevention and planning, and in this context, companies will be looking for coding systems that are easy to use by unskilled operators or that minimise operator intervention altogether. Manufacturers will move away from at-printer controls and towards systems that can be remotely controlled through mobile devices and web apps.
Consumers: commanding choice
Manufacturers will offer consumers greater choice through increasing numbers of SKUs, and will look for opportunities to create localised and personalised products through late stage customisation of packaging. Both of these trends will play into the hands of coding systems that enable manufacturers to rationalise the amount of packaging stock they hold by applying product-specific variable information. This not only reduces the cost associated with purchasing and managing complex packaging inventories but can also increase uptime through fewer changeovers. A trend towards smaller runs of higher value products will bring pack (and code) presentation and fast changeovers to the fore.
Regulators: keeping the pressure on
Sustainability will continue to be high on the agenda for FMCG companies under scrutiny from consumer groups and regulators. The coding industry will need to respond by making equipment more energy efficient to run, reducing fluid consumption, removing heavy metals and solvents from inks, developing 'green' inks and ensuring codability of biodegradable materials. Further regulation in the area of traceability is also to be expected, creating a requirement for more sophisticated coding methods such as serialisation down to unit pack level.
Future forecasts
Whilst CIJ is currently the coding technology most commonly employed on FMCG lines, the trends outlined above are expected to drive the adoption of non-continuous laser and TIJ technologies at the expense of CIJ systems. It is difficult to say precisely how coding systems will change in the next 20 years, but internet and wireless technologies are bound to have a major influence on equipment development. The one thing we can say with certainty is that the pace of change will be fast, so as we forecast the future we will have to forecast often.