A RF2 feeding system fitted with thermal inkjet printer from Rotech has allowed The English Cheesecake Company to date code a pallet's worth of cheesecakes in less than 2 minutes.
The English Cheesecake Company, based in West London, makes a wide range of luxury cakes for a variety of customers, including Ocado and Makro. The products range from individual cheesecakes to giant cheesecakes that serve 60 people. Most of the products are supplied frozen, with an outer sleeve and best before date applied before they enter the freezer. Rather than printing best before dates onto the filled cheesecake boxes, the new RF2 system prints them onto the flattened sleeves before they are erected.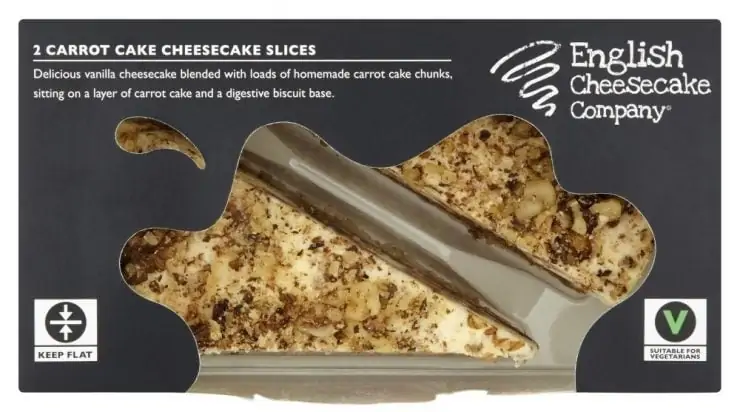 "The RF2 system can code thousands of flat pack cartons at once so it's very efficient," says commercial director Josh Laurier. "Many of our products are sold to the wholesale market. These cakes tend to be bigger than retail versions, so it's much more convenient to print onto the flat sleeves, rather than printing onto the completed packages, which are bulky to handle."
The RF2 feeding system takes a stack of flat sleeves and separates and feeds them rapidly through an iJet thermal ink jet coder before re-stacking them on the other side. This enables the system to position the date codes precisely, eliminating smudges and errors to deliver a high-quality print. "With the RF2, it takes a couple of minutes to code the sleeves. That's up to 204 cakes" says Josh. "With our old system, the operator had to position each box manually, so it was much slower."
Going through changes
The English Cheesecake Company was founded in the late 1980s but has recently been going through significant changes, moving to new premises and winning BRC Grade A accreditation. This has enabled them to focus more on the retail market and, as a result they won a contract to supply Waitrose. This called for an online date coding solution to the boxes containing the chilled cakes on the same day they're produced and dispatched. The company went on to order a second date coder from Rotech.
"Unlike the frozen cakes, the chilled products need to be printed with their best before dates on the day they're dispatched. We needed an in-line solution," says Josh. The company opted for a second iJet printer.  The two systems use the same print cartridges, simplifying stockholding.
Each packaged cheesecake is manually placed on a conveyor and a slider rig positions the box under the printer in the right position to print the code in the allotted white space.
The Cheesecake Company hasn't started using this second system yet – the first deliveries to Waitrose are set to begin in early 2018 – but Josh says that the high level of service in the original project was an important factor in choosing another Rotech system: "The timeliness and level of support has always been good. We're very happy with the performance of the RF2 and looking forward to using Rotech's in-line solution in the New Year."