Frozen ice cream mochi maker Little Moons is reaching for the stars after making its coding operation slicker and more efficient.
Eight years ago, siblings Howard and Vivien Wong gave up careers in the City to launch a business making ice cream filled mochi. This Japanese speciality – made by steaming and pounding rice flour until it has a chewy texture – was virtually unheard of in the UK but the duo were confident they could make a success of mochi by marrying it with a gelato filling.
Their product, which they named Little Moons, caught the attention of chefs and made it onto the dessert menus of several high profile Asian and Japanese restaurant chains.
"We produce over two million mochi balls a year for Yo!Sushi and Wagamama alone," says co-founder Howard Wong.
Then last summer, the company branched out into retail, securing an agreement to sell Little Moons in Whole Foods Market. Within three months of launch, Little Moons had become the retailer's best selling ice cream.
With retail sales booming, it became apparent that the company needed a more efficient coding method than using date guns with stickers.
"Sales growth was strong, resulting in the need for a more efficient method to apply date codes to cartons. Added to this, we got a specific request from a customer in France who didn't want date codes applied by labels. We were also in talks with a major retailer and needed to invest ahead of the curve in advance of the listing," explains Howard.
After eliminating foreign machines due to potential difficulties with repairs and servicing, Little Moons initiated discussions with Rotech, a Hertfordshire specialist in coding and marking systems.
"We chose Rotech because they were based nearby, had a good promotional video, offered good sales service (came to demonstrate machi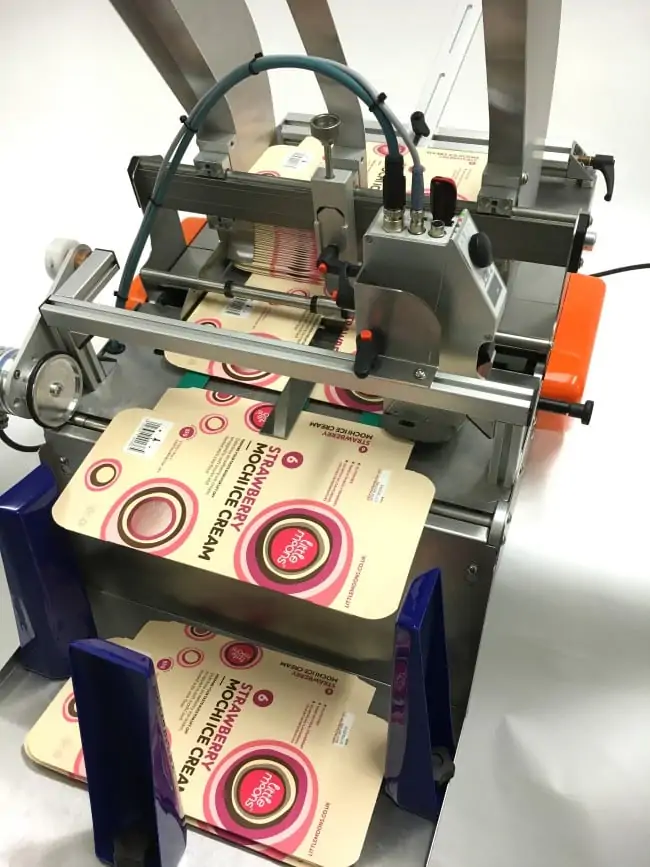 ne at our site very quickly) and could deliver quickly," says Howard.
Rotech had just launched the RF Lite – an entry-level carton and sleeve coding system which fitted Little Moons' brief perfectly.
"In developing the RF Lite, we were effectively realising our dream of driving the cost out of offline coding, without driving out the quality. We wanted to build a coder that was easy to buy, easy to set up and easy to use, bringing the benefits of automated marking within the reach of smaller food manufacturers for the first time," says Richard Pether, director of Rotech.
The RF Lite takes flat cardboard sleeves or cartons from a hopper, feeds them through a printer so they can be coded, and stacks them again ready for use. The RF Lite can handle pack shapes and sizes ranging anywhere from 40x70mm to 300x200mm and can be easily adjusted to swap between sizes. The machine's linear speed is 60m/s, which means it can handle just under 200 x 300mm packs or around 250 x 200mm packs per minute, and all on a tiny 500x500mm footprint – a key selling point for Little Moons.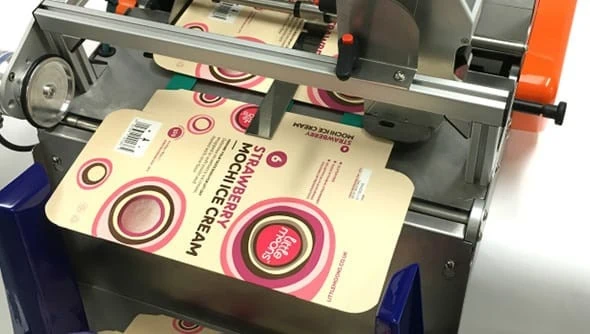 Howard says: "We particularly liked the small footprint of the RF Lite. Overall, it wasn't the cheapest machine but it represented good value."
Just days after a demonstration of the RF Lite at the producer's London factory, Little Moons paid a visit to Rotech's booth at Foodex Meatex in April. Rotech was offering £1000 off the list price of £6990 for offers placed at the exhibition, and Little Moons was keen to take advantage of this special offer.
On 25th April, a week after the show, Little Moons took delivery of its RF Lite. The coder was located in the factory's packing area, allowing staff to code batches of cartons on demand and then fill them with mochi.
The RF-Lite uses TIJ (thermal inkjet), a clean coding technology which is ideal for a high-end product such as Little Moons, as it creates clear, crisp codes.
"Little Moons wanted a high quality code that wouldn't detract from the overall appearance of the box. The code also had to be in a compact font and accurately placed, as the coding area was very small," says Richard.
"A continuous inkjet printer struggles to produce very fine, small print, as the drops get too close to one another and you end up with a mess. High resolution TIJ, on the other hand, is in its element when producing small fonts with clarity and precision."
Little Moons' success in both the food service and retail channels has resulted in phenomenal business growth – Howard reports that the company has doubled in size each year for the last two years.
The company produces 7000 packs of mochi a day, of which the majority are destined for food service customers and aren't, therefore, supplied in cartons.
It is currently coding about 1000 retail cartons per day using the RF Lite. This is the same volume as it was coding using the old hand-gun system, but it takes a fraction of the time.
"As a result, we are able to produce quicker. The coder has met with our expectations and we are happy with the purchase," says Howard.
Most importantly, the RF Lite represents a future-proof coding system – it has the capacity to code twice or even three times as many cartons as at present. This means Little Moons is safe in the knowledge that if it fulfils its ambitions of growing retail to 50% of its business, coding won't be a limiting factor.