Fishing bait producer Nash Tackle has seen a 50% increase in productivity after upgrading to Rotech's new pouch coder for late stage customisation of packs.
Essex-based Nash Tackle keeps fishing tackle shops stocked with everything from bivvies and shelters, to rods and reels. Baits are a major chunk of its business, with hundreds of boilies, pastes, stick mixes and pellets available, all formulated with patented performance ingredients and additives.
It's not just in the UK that Nash is the market leader and innovator in carp bait products – Nashbait is exported to markets such as France, Germany, Poland and the Netherlands.
It was the growth of its export business, and the corresponding need to produce ingredient declarations and product descriptions in different languages, that first prompted Nash Tackle to purchase an offline coding system from Rotech in 2012.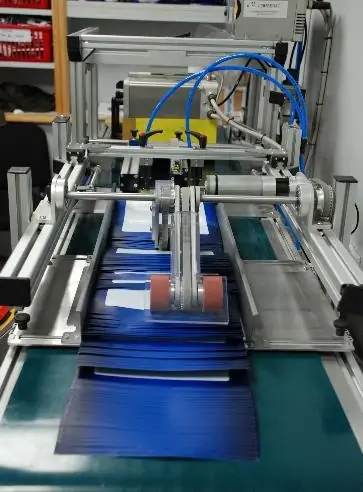 Breaking through the language barrier
Prior to this, Nash had been using the same text on its exported baits as it was using for the UK market. However, a crackdown by European labelling authorities meant this was no longer allowed – fish bait had to carry a description and full list of ingredients in the relevant language.
At the time, the RF1 vacuum pouch feeder and thermal transfer printhead was the best solution for Nashbaits – it made it possible for the company to overprint pre-made pouches with over 3,000 variations of back-of-pack information and bar codes, on demand – satisfying regulators without compromising production efficiency.
Taking it to the next level
Five years have passed since Nash purchased this machine, and in that time Rotech has engineered a new coding system, the RF Pouch, that has taken pouch coding to the next level.
Nash Tackle's business also evolved in that time; the company has moved into new state-of-the-art premises and added the Czech Republic, Belgium, Russia, Japan, Canada and the US to its list of export territories. These new markets all require their own language versions and increasing volumes meant the RF1 coder was working flat out to keep on top of orders.
During a visit to Nash Tackle, Rotech demonstrated the new system, and it was immediately apparent that this overprinter, with its increased speed capabilities and extended printing area, was ideal for Nash Tackle to keep pace with this growth.
The pouch coding system is capable of coding up to 60 pouches per minute – 50% faster than its predecessor. Rotech has achieved this improvement through design innovations including a shingling infeed and extended reservoir capacity.
"We have incorporated a shingling conveyor into the infeed, which enables the hopper that supplies the system with unmarked pouches to be enlarged to hold up to 300 pouches at a time," explains Richard Pether, director at Rotech.
The RF1 system supplied in 2012 used vacuum (pick and place) technology to pick a pouch from a stack, place it onto a conveyor for printing, and transfer the printed pouch onto another stack for collection. The shingling conveyor makes the infeed of unmarked pouches more efficient, as it eliminates the time taken for a vacuum arm to dip down to pick the pouch and lift it onto the coding conveyor. Pouches no longer have to be lifted from a stack below – they are presented level with the coding conveyor, so that all the vacuum arm has to do is lift each pouch, push it forward and release it onto the coding conveyor.
The addition of a shingling step also allows an operator to keep the reservoir of unmarked pouches replenished whilst the machine is running, enabling continuous operation until a batch has been printed.
"The pouches shingle out along the conveyor, which helps loading at the back end as well as picking off the front end," explains Richard.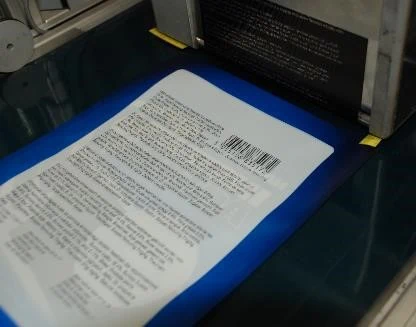 It also means that the hopper can be considerably larger than on a stack-to-stack system, on which the speed is limited by the number of pouches that can stacked in the hopper without overflowing. The larger capacity hopper translates to faster speeds, owing to less downtime for restocking the system.
Besides boosting productivity, the new coding system has given Nash Tackle extended text printing capabilities, through a wider 6" thermal transfer printhead.
"With the wider format printer we can fit another word or two per line. This may not sound like much, but it means that we can fit up to six language versions on a pouch without losing out on valuable marketing space," says Gary Bayes, operations director at Nash Tackle.
Nash buys in pre-made branded pouches that are non-product specific and have a blank area on the back for printing ingredient lists, bar codes, date codes and batch codes. Nash prints labels with the product name and code in-house on a desktop printer and applies them to the pouches, before passing the pouches through the RF Pouch to print back-of-pack information, bar codes, date codes and batch codes.
Each week, the coder runs off around 8,000 pouches, ranging in size from 200g up to 5kg. These are fed in batches of 100 and within just a couple of minutes, each pack in the batch is accurately printed.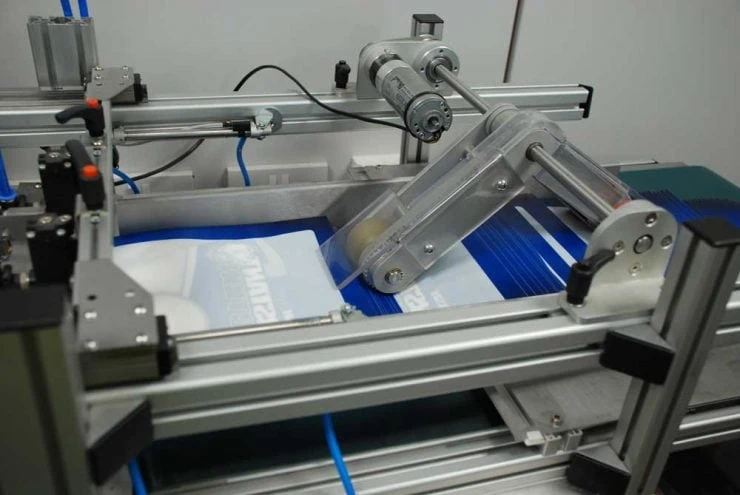 Making personalisation possible
The efficiency and variable printing capabilities of the RF Pouch also supports Nash's latest venture – extending its offering to include personalised pack and contract manufacturing services.
"If a retail chain wants packs printed with their branding, carrying ingredient and nutrient information in specific languages, we can do that – efficiently and economically – thanks to the new RF Pouch," says Gary. "Without this coder we wouldn't have been able to grow our business in the way we have. The flexibility to print variable information on demand has given us the edge over other companies who struggle to keep abreast of changing legislative requirements and has enabled us to court bigger chains for whom legal compliance is a high priority."