Our RF range of feeding systems – designed and built here in our UK factory – offer manufacturers a unique, flexible solution to code and/or label their packaging, in its flat form, where it can't be done as part of the inline coding or labelling process.
A range of systems to suit specific application needs
Within the range, we have a system for almost every application. From our compact and low-cost RF Lite – ideal for start-up companies looking to automate their date coding, to our more complex RF Compliance machine, fitted with camera and reject system – designed to help pharmaceutical manufacturers comply with legislation.
Each system has been carefully thought about in terms of suitability for certain product types. For example, our RF Pouch offers the ideal solution for automatically feeding, printing and/or labelling pouches, bags and other flexible material as it uses vacuum technology to transport the packs onto the conveyor, whereas our RF Auto utilises friction rollers, along with patented auto-gating technology to accomodate products that feature varying thicknesses, such as sandwich skillets, resealable pouches or wraparound sleeves.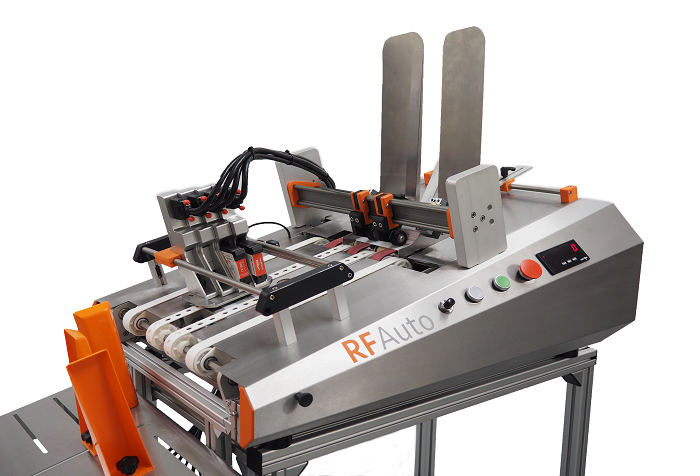 Replacing overprinting by hand
Many of our feeder customers, in particular those who have purchased an RF lite, were previously applying variable information, such as date codes, batch numbers and lot codes to their products by hand – a labour intensive and time-consuming process.
By switching to an automatic solution, Florna Plants can now accurately feed and print up to 400 of their flower tags per minute. They've also dramatically increased their output and freed up 2-3 members of skilled staff for other activities.
Read full Florna Plants case study
Reducing waste and batch coding costs
Where there's a high throughput, there's a greater dependancy on the efficiency and reliability of the coding system in question.
Pelham Laboratories print batch codes onto around 5,000 and 10,000 cartons per day, on up to 20 different types of carton. As demand grew, they were becoming increasingly worried about their carton feeder and the levels of waste. The feeding system, sourced from China, was slowing down production, often feeding cartons unevenly which was resulting in around 15% of costly packaging waste.
After a demo of our compact RF Lite carton and sleeve feeder, Pelham Labs placed an order and are now reliably printing all of their cosmetic cartons without interruption – their waste has been significantly reduced and is now down to just 1-5%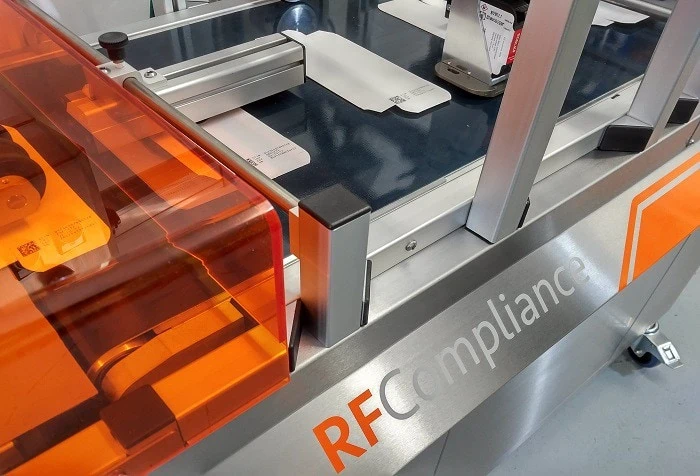 Easy to switch between sizes
The system also enables the production team to print batch codes on all sizes of cartons – from 30 x 70mm up to 300 x 200mm.
This meant that even their smallest size carton could be fed through the system at up to 300 per minute, extending to 400 per minute for larger sizes. And changing from one carton size to another takes only a few seconds, avoiding any delays in throughput.
Read full Pelham Laboratories case study
More than just a coding system
The above outlines just a few benefits that our offline feeding systems can bring to businesses. They can also be the answer to coping with seasonal spikes in production (rental machines are available), introducing trial products and, depending on the printing technology used, they can dramatically improve the quality of the codes or text printed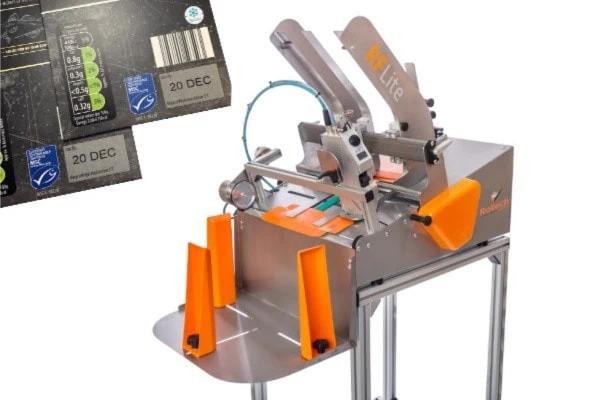 onto the packaging.
To find out more about the RF Range, or to organise a free on-site or in house demonstration with one of our experts, call us on 01707 393 700 or send us an email [email protected]