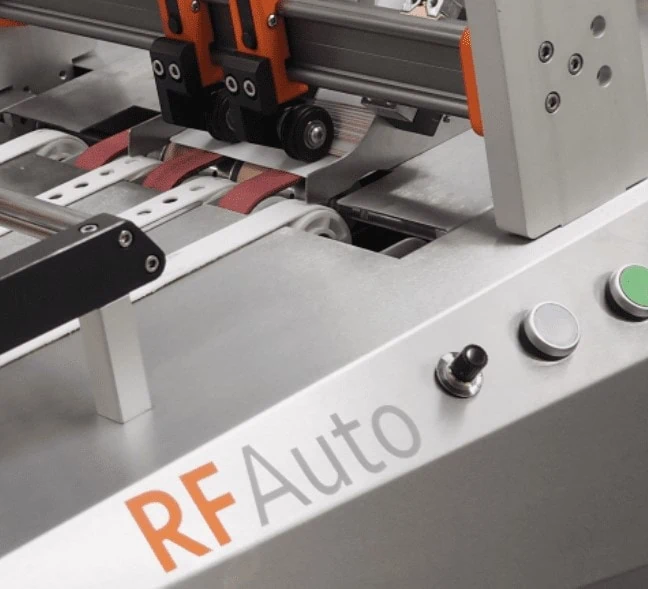 Rotech has developed its new offline RF Auto sleeve and carton friction feeder in response to the coding and handling challenges of the latest 'lift-the-flap'-style luxury pack sleeves.
Without any human intervention, the systems patented auto-gate feature automatically adjusts to accommodate the varying thickness of each flat pack. In addition to being able to handle cartons and sleeves the design of the RF Auto allows for a range of pouch/doy bag type products to be handled. This combines with a range of other features to deliver a significant increase in coding productivity.
The RF Auto stack-to-stack feeder combines with a non-contact thermal inkjet coder or continuous inkjet coder to offer a complete, cost-efficient, off-line overprinting solution. This sleeve coding solution enables users to overprint essential information onto the latest cardboard sleeves, which can vary considerably in thickness.
Conventional stack-to-stack carton and sleeve feeders ensure that the packs feed through the printer correctly by manually setting a separation finger to allow one pack through at a time. That setting varies depending on the thickness of the carton and making adjustments can add several minutes to the set-up each time. In contrast, the RF Auto's auto-gate function eliminates these delays.
Simple controls and the use of quick-set hopper guides also help keep downtime to a minimum. This added versatility boosts productivity by eliminating set-up time and minimising sleeve waste, which can otherwise cost up to £20k per annum in a typical coding operation. In addition, the RF Auto can handle a larger stack height, increasing the number of packs per run by around 20% and calling for less-frequent operator interventions. This nudges productivity up further.
Offline coding is an increasingly attractive option for companies in industries such as food and pharmaceuticals, especially since unusual pack designs and the need to maintain a high-end finish can prove challenging for online solutions on today's fast-paced production lines.
The RF Auto system can run at up to 90 metres per minute, while the high torque of its friction feed system retains reliable control over the cartons as they are automatically separated and dispensed. Its small footprint allows the RF Auto to be moved easily between production lines.
The system also benefits from a belt-infeed for fast reliable feeding of product and can accommodate larger carton sizes than its predecessors, up to a maximum of
400 by 350 mm. In addition, the unit can be used with flash labelling or over-labelling units.
There is a broad trend towards luxury packaging globally, which is seeing the market growing at a rate of 5% per annum. That far exceeds the growth of general consumer goods packaging. Some styles of packaging are especially challenging for conventional coding operations. For instance, the lift-the-flap sleeve style is increasingly being used by premium brands to deliver value add product information to consumers, but the addition of an extra information flap means the packs vary considerably in thickness.
Market research provider Neil Farmer Associates, explains the impact on coding: "Forecasts predict the market for luxury packaging to be worth $17.6 billion by 2019, compared to 14.2 billion in 2014, which adds to the pressure for manufacturers to maximise the versatility of their coding operations". Rising demand for added-value packaging and the introduction of new technology and innovations is driving this growth. Rotech has quickly responded with the launch of the RF Auto to facilitate this fast-paced market.