Print late-stage information directly onto your primary and secondary packaging - quickly, reliably and at the right price point.
There are several coding technologies available, each with their particular strengths, allowing us to satisfy a range of applications.
Thermal inkjet printing
Thermal Inkjet (TIJ) technology is a modern solution that delivers high-resolution, high-speed coding. The compact units are mess and maintenance-free and require minimal downtime, due to their interchangeable ink cartridges.
If you are looking to print variable information such as date codes, batch numbers and 1D/2D barcodes, our printers can be seamlessly integrated into your production line alongside existing equipment.
Crisp, clear prints
Cost-effective
Simple integration
Maintenance-free
Large area printing
These innovative systems allow for information previously carried on a label to be printed directly onto any porous surface, particularly outer cases and boxes.
As a result, you save costs on consumables, printing, and the need for an application system. With the ability to print a barcode to the required standard, the savings of direct box printing are substantial.
Reduces waste
Crisp, clear prints
Simple integration
Cost-effective
Thermal transfer printing
Thermal transfer overprinting (TTO) is ideal for applications that require a large amount of information to be printed, typically onto flexible film, label stock and medical paper (Tyvek®).
A print is made by placing thermal transfer ribbon between a heated printhead and the product. The heat passes through the ribbon, releasing the ink, which adheres to the substrate, cooling rapidly, resulting in a permanent print.
TTO coders are also suitable for printing high quality variable data, barcodes and images onto packaging material, for a wide range of industries.
High resolution
Proven technology
High maintenance
Costly to run
Hot foil coding
Ideal for the printing of discrete LOT identification onto cosmetic cartons.
Hot foil technology is reliable, economical, and low maintenance, making it ideal for printing use by dates, lot numbers, batch codes and expiry dates. It is also versatile in that it can print metallic codes – something other technologies cannot do.
It works by pressing a heated metal die onto pigmented hot foil tape which then transfers to the packaging material.
High resolution
Low initial cost
Slow
Labour-intensive
Laser coding
Ideal for the identification and product verification of pharmaceutical cartons.
An environmentally friendly technology, laser coders work by etching or vaporising the surface layer of the material, leaving an inerasable mark.
Scribing laser coders can produce text, graphics, variable and serialised data as well as 2D codes onto a range of substrates.
High speed
Environmentally friendly
High initial investment
Dangerous
Continuous inkjet printing
Ideal for high-speed production and printing on curved surfaces.
While sophisticated, these types of printers require careful maintenance and are also limited in their resolution, as only one droplet lands on the product at a time.
The volatile solvents employed can also present a challenge in terms of safe disposal.
High speed
Costly to maintain
Uses hazardous chemicals
Bulky units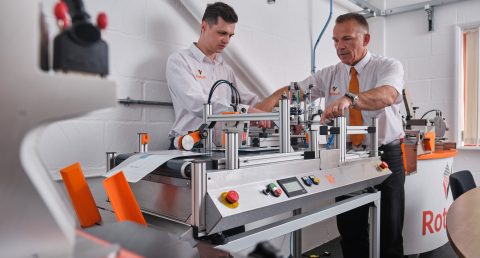 Talk with an expert
Book a demo and unlock the potential of Rotech's coding & marking technology.